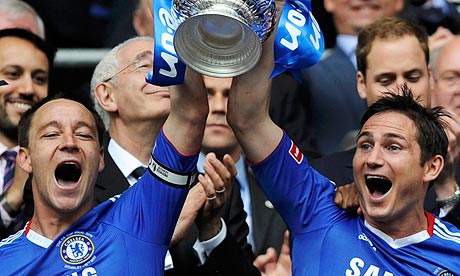 Maybe ade di antara kite yang kecewa dengan perfomance player Chelsea yang ade sekarang ni.Namun jangan risau, good news is trio utama sudah kembali.Bukan sahaja kembali dari kecederaan malah kembali ke jalan yang benar.
JT,Lampard & Essien dikhabarkan akan segera memainkan peranan & tanggungjawabnya untuk skuad Chelsea sekarang ni.
Namun untuk game dengan Everton, JT mengaku yang die masih belum bersedia untuk perform dalam match tersebut.Begitu juga dengan Lampard.
Kecederaan paha yang dialami oleh JT sudah tidak serius lagi dan kata Dr Jean Meersseman dan pembantunya Kevin Lidlow dari Itali, JT tidak ade sebarang masalah lagi dengan kecederaannya itu.
Kate JT,
"By the looks of things we are getting two or three players back.I have trained the last couple of days and Frank is not too far away.Hopefully Michael(Essien) will return at the weekend."
Essien sudah kembali dari match penggantungannya itu & bakal turun untuk game malam esok.
Ape yang pasti, mereka bertiga akan bergabung kembali untuk big match dengan MU pada 18 Disember nanti.
Get well soon & welcome back to 1st eleven dude.!