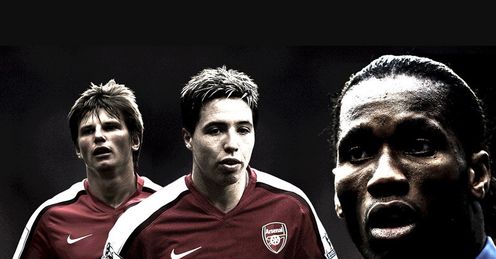 Dengan postponednya game dengan MU, maka match selepas ini akan tertumpu di Emirates Stadium pula.Last EPL result pagi tadi menunjukkan ManCity gagal mengambil peluang untuk berada di takhta liga apabila mereka tewas 2-1 kepada Everton di halaman sendiri.Berita baik untuk kite,MU mahupun Arsenal.
Sepanjang pertembungan menentang Arsenal di halaman mereka, memang banyak memori baik mahupun buruk yang berlaku di sana.Cume ape yang kite inginkan ialah 3 mata penuh berharga.Jika sebelum ni mereka telah tewas kepada kite 2-0-di SB, mungkin angka scorenya itu akan menjadi lebih menarik di Emirates.Rujuk sahajalah tahun lepas & sebelumnya.
Kate ex-player, Ballack yang sentiasa hepi apabila bertemu dengan Arsenal kerana dia berkata Arsenal salah satu team yang sangat mudah untuk ditumbangkan.But for now, Ballack dah tak de...n mungkin kite perlu dengar statement yang sama juga dari player kite yang lain mengenai perkara ini.
"The Man who cannot stop Score against The Gunners"
. Guess who ?
Macam tak kenal,kan ? He's Didi.Bertemu sahaja dengan Arsenal, resipi utama ialah memasukkan bola ke dalam net & itu memang sentiasa berlaku bile Drog mengganas dengan budak2 seni visual.
Kate CA mengenai keadaan Didi sekarang ini,
"I understand he has not been in a good condition.He had difficulty to play with malaria, he was tired, he was not 100 per cent and he found it difficult to train.I put him in the last few games even though he was not 100 per cent because we need to have his character and his personality.
Efek perfomance Didi makin terserlah selepas die menjaringkan gol penting ketika match di White Hart Line minggu lepas.
"But now his condition is better. He had a good reaction after coming on as substitute in the last game.Following the goal against Tottenham, he will show us a different Drogba in the next game."
Memang sesuai masa & tempatnya.Di Emirates, we will see a lot of different DIDIer Drogba.
12 goal in 13 game match against The Gunners ?
Wow.!