Bolehkah golongan warga emas taman seri jaya Munich mengalahkan dan mengayamkan plyer besertakan manager pot pet pot petnya yang kononnnya berlagak champion musim ni di Old Kerepot pagi nanti ?
Gua baru sahaja mengalami "mimpi indah" di Old Kerepot hujung minggu lalu, mungkin pagi esok ia akan jadi "mimpi basah" plak.
Namun orang pertama yang akan suke dengan penyingkiran Man United pagi nanti tak lain tak bukan ialah.....
Guest who ? not geng kita ? bukan juga die hard fan arsenal ? tetapi
He is Michel Platini...the man who very like all english club out from champions league....He's the man, if poor devils is loose later in the morning, his "dream" will come true.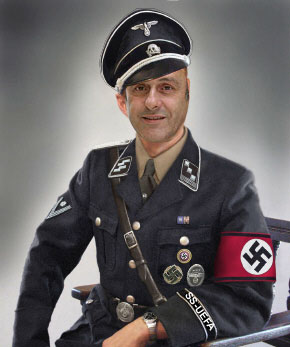 I'm not hitler, call me HitNi...atau Abang Planta atau Uncle plastisin....
Messi buat "show" hatrik , so pagi nanti guapun ade show jugak, iaitu "BoobsShow"!!!