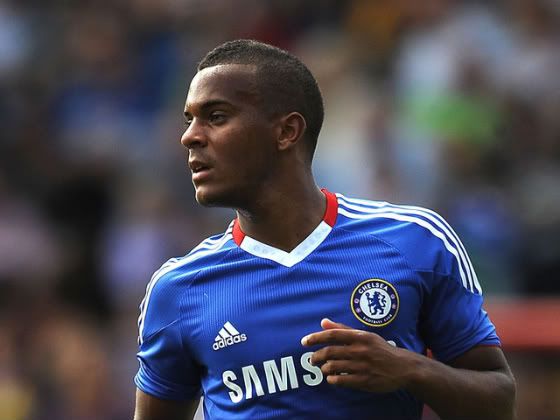 Jom kenali serba sedikit info mengenai youngster kite, Ryan Bertrand. Debut professional pertamanya untuk Chelsea pada 20 April 2011, lawan Birmingham.Ala last week punya games yg kite menang 3-1. Bertrand lah yg buat cross superb utk gol ke-2 Malouda tu beb.Another wonderkid selain dari
Josh Mceachran
.
Ryan Bertrand atau full-name Ryan Dominic Bertrand lahir pada 5 Ogos 1989 di Southwark, London, England.Die bermain di posisi left back(winger), posisi yg same dgn Ashley Cole.
CFC telah menandatangani kontrak Bertrand pada Julai 2005 dari kelab Gillingham.Pada musim 2006/2007, Bertrand dua kali di-loankan ke kelab Bournemouth, yang mana pada waktu itu die bersama dengan
Jack Cork
(another youngster chelsea).
Pada Ogos 2007, Bertrand join kelab Oldham Athletic secara pinjaman sehingga bulan Januari 2008.
N then pada 4 Januari 2008 selepas loannya berakhir di Oldham, kemudian dia dipinjamkan pula ke kelab Norwich City, for the rest of the season 2007/2008. ( Berape banyak daa die punya loan,kehkeh.Tapi biaselah player mude macam die ni perlu diberi byk pendedahan & experience di kelab2 bawahan..)
Misi loan yg seterusnya di kelab Nottingham Forest.Pada 5 Ogos 2010, Bertrand setuju dgn kontrak pinjaman selama 6 bulan di sana.First debutnya utk kelab tersebut ketika menentang Burnley. Bertrand kembali semula ke Chelsea selepas tarikh pinjamannya tamat pada 3 Januari 2011.
Ketika match menentang Birmimgham last week, die menggantikan Ashley Cole pada awal separuh masa kedua dan membuat assist kpd second goal dr Malouda, memberikan kemenangan bergaya Chelsea 3-1 mengatasi Birmimgham.Cross cantik yg tepat yg tepat ke arah Malouda & Malouda meyambut baik hantaran Bertrand itu dgn menanduk kemas menewaskan Ben Foster.
Tak lupe juga, die pernah beraksi utk skuad muda England bawah 17 tahun, bawah 19 tahun & skrg ni Under-21 plak.
Anyway, Bertrand is talented player.Like Mceachran, Bertrand juga mempunyai skill & kreativiti yg bagus.Harap lepas ni, CA banyak bagi peluang die perform.Kalau tak 1st starter, super-subpun jadilah kan ? Good luck for u, Bertrand.Hope u success in CFC.
Kredit
:
Wikipedia