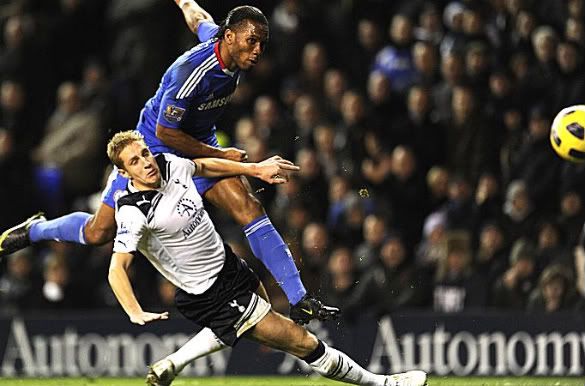 Bukan bertemakan clash of london sahaja, malah match malam ni dianggap pertembungan hidup atau mati. Chelsea vs Spurs.
Kenapa aku bercakap sedemikian ? First pasal Chelsea mahukan kemenangan & Spurs juga mahukan kemenangan.Chelsea mahu menang demi merebut kejuaraan liga manakala Spurs mahu merampas tempat dr City utk kekal ke slot UCL musim depan.
Berbaki 4 perlawanan yg tinggal, mampukah kite mengutip keseluruhan mata yang ada ? blehkah kite mengekalkan momentum kemenangan utk terus bersaing dalam title race sehingga akhir musim nanti ? Jawapannya ada pada malam ni.Jika kite berjaya beat Spurs, maka kite akan beza hanya 3 mata sahaja dgn MU yg bakal berdepan dgn cabaran getir, Arsenal di Emirates Stadium hari ahad ni(esok). MU pasti akan berada dalam keadaan yg agak pressure gile jika kite menang dgn Spurs.
So menjelang pertembungan London Derby, aku rase 1st line-up cmni kot :
Cech
Ivanovic - JT - Luiz - A.Cole
Essien/Benayoun - Mikel/Ramires - Lampard - Malouda
Didi - Torres
Alex out for 3 weeks after injury di bahagian hamstring.Ramires masih 50%-50% doubtful. Essien juga sama, entah sempat ke tak cari fitness 100%. Torres maybe bleh mulakan di bahagian starting after die score 1st golnya utk The Blues minggu lepas. Persoalan skrg, jika Kalou/Nik di-bench, Torres starter, blehkah die feat dgn Didi ? I mean meniadi ke tidak gabungan striker black & white itu ? Bukan ape, sprt mane yg korang tahu, Didi ni jenis ego skit dgn Torres.Nampak match sebelum ni tiada chemistry di antara mereke berdua.Tapi kate CA, "Drogba can play beside Torres". Hmmm x kesahlah okey ke tidak chemistry diorg berdua tu, cume harapan aku ialah mahu tengok Chelsea menang, menang & terus menang. Tak main cantikpun tak pe, janji menang. Biar main ugly asalkan dapat 3 mata, ye tak ?
Good luck for Chelsea & good luck for Arsenal too(this time only).Harap diorg menang lah supaya dpt kasi chance kat Chelsea utk terus mem"pressure"kan MU, kehkeh.Ape nak risaukan, Arsenal dah out title race.Bagi chance lah plak kat Chelsea. Hanya Chelsea sahaja harapan terakhir warga masyarakat EPL utk meranapkan impian MU itu.Takkan nak tengok team setan itu juara epl buat kali ke-19 beb ? Takkan nak kalah lagi sekali dgn diorg kat home ? mane maruah korang ? Cube contohi bebudak liverpool skit. Wlpn dah lebih 1 dekad x menang liga, tapi diorg dah berjaya kalahkan MU kat gelanggang sendiri musim ni. Tak menang ligapun xpe, janji menang dgn MU.Itu dah kire dpt bg satu kepuasan kpd team & fans The Kop.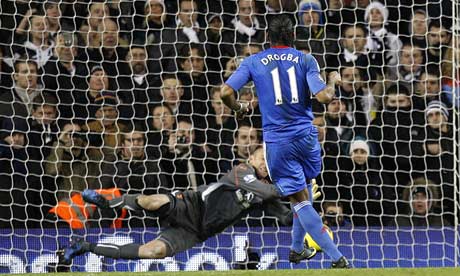 First season kite draw 1-1 di WHL. Drogba score gol penyelamat & he missed penalty in last2 minute of the game.Remember ?