"MU didn't really win that game(final UCL 2008), they just had more luck in the shoot-out,"
Ini bukan provokasi, but this is pardigm shift (anjakan paradigma).
Cech
is WOWsers.
Cech
berkata dari sudut perspektif yg cukup realiti serta pengalaman yg die miliki.Tiada emosi berlebihan kerana keadaan berlaku disebabkan pengaruh serta nasib MU yg lebih kuat.Bak kate
CA
, "MU just get a luck, they aren't perform good but always get a better result."
So untuk mengukuhkan lagi ape yang diungkapkan oleh
Cech
&
CA
itu, tengok ajelah scene kat bawah ni :
the latest lucky..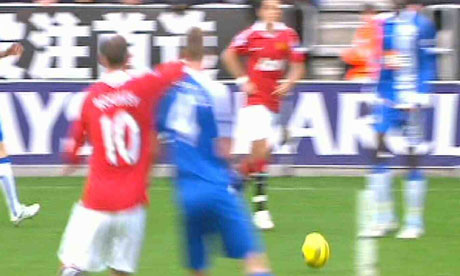 nudge lucky...
Diving lucky...
Banyak lagi, cume scene kat atas ni paling top utk menggambarkan betapa pihak FA & ref takut dengan MU.
Dan bile Fergie berkate ref selalu buat bias kepada teamnya setiap kali lawan Chelsea, aku rase cam nak tergelakpun ade.Bile ref buat keputusan yg tidak memihak kepada teamnya, marah bukan main lagi tapi bile teamnya terlepas dari hukuman dan ref bias kepada team lain pula, die senyap dan bisu pula.Itu menunjukkan bahawa Fergie seorg yg kecut telor.Die bercakap bukan berdasarkan anjakan paradigma tapi bercakap atas dari segi kepentingan die sahaja.Seolah-olah mahu menagih simpati dgn sesuatu pihak dengan keadaan yg berlaku.
Bile kalah secara standard, senyap & tak mahu mengeluarkan sebarang komen.Sangat gembira bile ref bias kepada team lain tapi emo bile ref bias kepada team sendiri.What fair about this ?
Bile kalah, salahkan ref... die x tahu ke yg musim ni MU banyak kali dapat bantuan dr pihak ke-13... Org kate, lebih baik senyap dari bercakap kosong.Itu memang betul.Tapi Fergie ni jenis org tua yg bebal skit, mulut dengan tong sampah lebih kurang je.