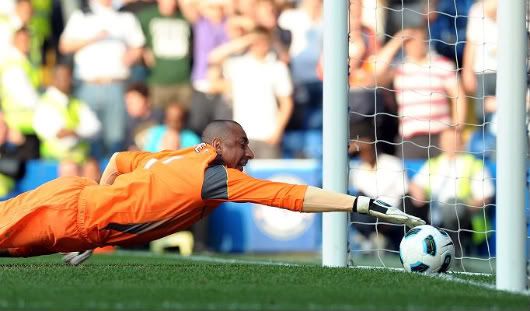 Over the line ? Rasenya 99% complete over.Kalau tak lepaspun, who care ? Sape suruh buat mistake bodoh sangat. Si gomes tu mmg suke buat blooper.Tangkap bola cam tangkap ayam. Bab2 blunder ni mmg serah kat die je. Jangan salah kan linseman kalau keeper itu dikategorikan sebagai (AOTB) - Ade akal tapi BODO. Padanlah muke. Spurs mmg xleh nak clean-sheet kalau die yg jadi keeper.Pesanan utk fans Spurs, anda kena pasrahlah sebab dalam team anda terdapat sekor keeper bingai. "The New Almunia".
Nostalgia WC 2010. Still remember ? Scene kontroversi yg berlaku pada match world cup tahun lepas.Time england lawan jerman. Gol lampard mmg dah over-line namun ref & linsemen gagal cath-up. Semalam scene tersebut berulang lagi. Tapi kali ini ia berpihak kepada lah Lampard plak. Maybe linsemen semalam nak tebus balik kesalahan yg berlaku kat match WC hari tu kot,kehkeh.
Gol Kalou pun agak kontroversi skit kerana die dikatakan berada dalam kedudukan offside.But who care ? Janji Chelsea menang.
Inilah dunia bola sepak. Sometimes you get luck & sometimes you're not. Bile gol tersebut gol kontroversi, itulah dipanggil Football luck. Bukan sokmo Chelsea dapat luck dr ref & linseman.Asyik MU je asyik Barca je, so ape salahnya sekali sekala ref memihak kpd Chelsea plak kan ? Lagipun we deserved to win.Spurs main entah ape2. Chelsea yg banyak attack & membuat percubaan bahaya. Kite main untuk champion sedangkan Spurs main utk qualify ke UCL.Di situ kite bleh nampak perbezaan kualiti perfomance Chelsea dgn Spuds.
Ape2 hal, malam ni harap Arsenal menang. Biar kasi panas skit bontot Alex Ferguson. Jika MU kalah, maka kite hanya beza 3 mata sahaja dgn diorg.Bile benda itu terjadi, kite bleh lihat perebutan kejuaraan liga maybe akan ditentukan pada saat2 terakhir nanti, i mean in the last game of the league(sprt mane yg berlaku pada tahun lepas & season 2007/2008). Let the games begin !
"We deserved the win and have kept our title hopes alive.I was due one of those [controversial goals] after not getting a big decision in the summer. It's unlucky on Spurs but you get what you deserve. We created enough to win the game."
(Super Frank)