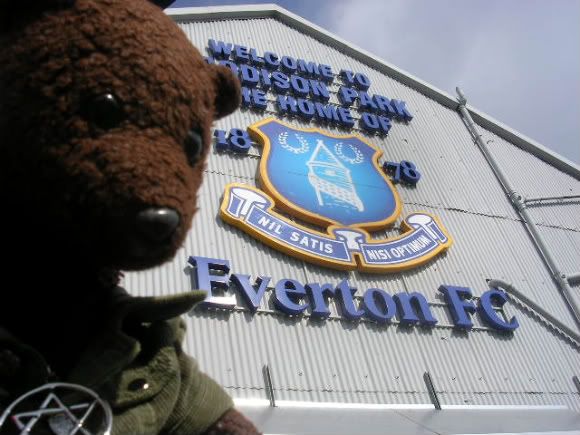 Berkunjung ke markas Goodison Park, ia merupakan cabaran terakhir Chelsea musim ni.Easy to say, it is last game of the season.
Menang kalah atau seri, itu tidak memberi ape2 efek langsung kepada postition league kite.Yup, kite sudah mengesahkan top 2 spot utk musim yang tak berape best ni. Arsenal, Liverpool & City masih tetap berada di belakang kite. MU ? Musim ni musim mereka.Luck mereke lebih dr kite.So, mereka boleh juara dengan mudah. Tapi tunggulah utk musim yg akan datang, kami akan bangkit. Season ni kami ade banyak masalah.Problems injury, problems pengurusan, problems perfomance down key player.Cakap bykpun tak de gune, tunggu sahajalah musim depan.
Menjelang menentang Everton ni, harapan aku macam biase ialah mahu melihat kem kite mencatat kemenangan. 2 minggu yg sudah, kite tewas, last week draw, so minggu ni harap menang sudah lah.Wlpn Everton ni team yg agak kuat dan mmg susah skit nak tumbangkan mereka especially kat tempat mereka sendiri, tapi... jika taktikal kite bagus, mental strong, tak de masalah untuk menang dengan team mane2pun.
Line-up kemungkinan :
(4-3-3)
Cech
Ivanovic - JT - Alex/Luiz - A.Cole
Essien - Ramires/Mceachran - Malouda
Anelka - Drogba/Torres - Malouda
Tahniah diucapkan kepada Cech untuk award Chelsea player of the year 2011. First time Cech menang anugerah tu. He deserve to win it. Overall perfomance die sepanjang musim ni tidak mengecewakan. Kalau nak compare dengan player lain, rasenya musim ni Cech lagi terbaik. Last year, Abang Drogba yg menang, so musim ni turn Cech plak.
Utk young player of the year pula dimenangi oleh Josh Mceachran. Mceachran pun layak utk terima awards ini. Skill, dribble ball, through pass die mmg mantap. He is a "Future Chelsea boy". Rasenya utk match dgn everton die akan jadi 1st starter lagi.
Sebagai last match ni, aku harap player kite dapat menutup tirai musim 2010-2011 ni dengan satu kemenangan epik. Kalau kalah sekalipun, biar kalah secara bermaruah. Perfomance kena ade perubahan dari semasa ke semasa. Biar berubah ke arah yang lebih positif lah supaya orang lain tidak akan memandang rendah lagi dengan keupayaan kite. Musim ni jadikan ia sebagai satu kisah pengajaran untuk ditempuh di masa hadapan. Gagal sekali tidak beerti gagal selamanya. Langit biru tidak selalu cerah. Ape2pun keep the blues flying high.