Well, rumours atau tidak, Chelsea dilaporkan sekali lagi akan membuat rundingan dengan pihak atasan Atletico Madrid untuk membeli
Sergio Aguero
.
FYI
, transfer news yg berkaitan dgn Aguero bukanlah satu kisah dongeng kerana sebelum ini, Chelsea dah banyak kali cube utk sign anak menantu Maradona tu tapi gagal. Gagal kerana Atletico tak nak lepaskan die ke kelab lain.
Bintang Argentina itu pernah menyatakan hasrat untuk menyertai Chelsea.
Aguero
juga ade cakap yg die mahu bermain bersama-sama dengan Abang Drogba.
Harga kalau xsilap aku lah, paling latest Chelsea mahu beli
Aguero
dgn price 40 millions pound. Mahal,kan ? Mahal tapi berbaloi la pasal Aguero is one of the best player in the world. Die laju, die kreatif & yang penting assist serta penyudahnya mantop. Thats good for us.
Tak mustahil
Aguero
akan blah dari Atletico jika kelab tersebut gagal qualify ke UCL musim depan.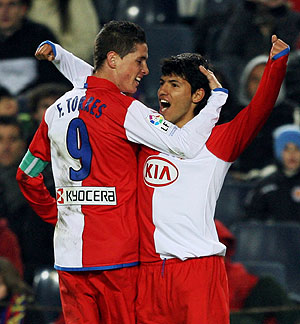 Bayangkan kalau die join Chelsea musim depan & feat sekali lagi dengan Torres.Perghhh, terbaik dari ladang beb. Oh ye lupe nak bagitahu, Torres pernah cooperate dgn
Aguero
di Atletico Madrid pada tahun 2006 yg lalu.