Mungkin agak lewat sedikit aku post mengenai entri ini, namun ia tetap menjadi berita yang sedih untuk kite sebenarnya.
Ray Wilkins leave Chelsea.Ape sebenarnya yang terjadi ini ?
Ray pergi dari Chelsea kerana pihak pengurusan kite tidak lagi memperbaharui serta memanjangkan lagi kontraknya di Chelsea.Itu sahaja motif pintu keluar dari Ray.
Entah sebab ape kenapa dan mengapa pihak pengurusan tertinggi kelab tidak mahu memanjangkan kontrak beliau.Yang pasti, CA sendiri menyebut Ray Wilkins antara salah satu kunci kejayaan Chelsea dalam beberapa musim yang lalu.Maybe CA sendiri sedih mendengar perkhabaran yang diterima oleh Ray sekarang ini.
Untuk pengetahuan korang, Ray Wilkins memulakan kerjayanya di Stamford Bridge pada era tahun 2000.Dan pada musim lepas iaitu 2009/2010, die menjadi Assistant First Team Coach dan menguruskan The Blues bersama-sama dengan CA.
Ketua Eksekutif, Ron Gourlay tidak memberi sebarang respons mengenai kontrak Ray dan dia hanya mampu mengucapkan terima kasih sahaja di atas khidmat Ray selama die berada di SB.
"On behalf of everyone at the club I would like to thank Ray for everything he has done for Chelsea Football Club."
(say Ron Gourlay)
Anyway, i wish good luck for you, Ray Wilkins.And also like Ron Gourlay, thanks for everything you have done for Chelsea Football Club.All the best for you, Ray.
So, sekarang ni die sudah pergi & sape yang akan mengisi kekosongan yang ditinggalkan oleh Ray itu ?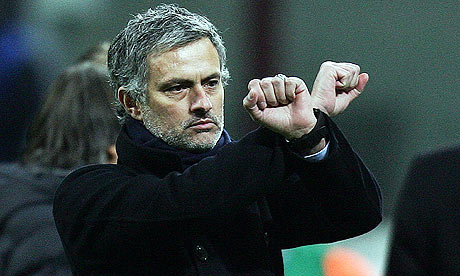 The Special One ? Hohoho...i wish, i wish he's the man....