Sempena dengan match menentang team BlackPool malam esok, aku akan mengulas serba sedikit mengenai kelab yang diberi gelaran
The Seasiders
ini.
Blackpool ditubuhkan pada tahun 1887 di Bandar tepi Pantai Lancashire of Blackpool.Pada musim ini mereka bersaing di carta liga EPl yang mana tahun lepas, mereka telah memenangi Football League Championship play-off untuk layak secara automatik ke kempen EPL 2010/2011.English League Championship 2009/2010 merupakan musim ke-100 liga untuk team Blackpool.
Moto kelab The Seasiders ini ialah Progress(iaitu Kemajuan).Sejauh mana majunya team diorang ni aku xtahu, cume musuh tradisi diorang ialah Preston North End yang mana segala pertembungan mereka di dalam liga Championship digelar
"Derby Lanchashire"
.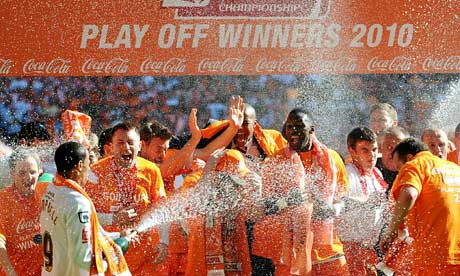 Sejarah gemilang buat mereka pada season lepas iaitu mereka telah menundukkan Cardiff City 3-2 di Stadium Wembley dalam Championship play-off final yang telah melayakkan mereka ke EPL musim ini.Untuk pengetahuan korang juga, inilah kali pertama team Blackpool layak bermain di EPL.
Home ground mereka ialah di Stadium Bloomfield Road dan siapakah itu Ian Holloway ? Ian Holloway merupakan anak kepada Holloway, sepupu kepada Hollowman.Dia adalah manager team The Seasiders sekarang ini.
Permulaan kempen liga yang sangat bagus untuk diorang musim ini apabila menewaskan Wigan Athletic 4-0 di halaman mereka sendiri.Namun mereka tewas besar 6-0 kepada team Kindergarten Champions, Arsenal di Emirates Stadium pada match kedua liga.Yang terkini iaitu minggu lepas, mereka telah mengejutkan Newcastle United 2-0 di St James Park.Ini telah menunjukkan bahawa team Blackpool merupakan team yang sukar dibaca oleh pihak lawan.Kadang2 mereka bermain bagus , kadang2 mereka bermain teruk.
So untuk pertembungan menentang kem kite malam esok, aku seperti biasa tak de prediction.Blackpool juga ape kurang hebatnya, sekarang ini mereka berada dalam kedudukan top 4 in epl standing.Hanya 7 mata sahaja memisahkan kem kite dengan diorang.Seri atau kalah sahaja malam esok, akan berkuranglah mata demi mata kem kite kepada diorang.Tapi perlu diingat, match esok akan berlangsung di stadium keramat kite iaitu Stamford Bridge.Jage2...berkemungkinan player2 kita akan berpesta 6/7 gol lagi nanti.Sebab sekarang ini Nik, Didi, Flo, Ash berada dalam hot form beb.Anyway, keep the blues flying high.!