Seteruk-teruk Chelsea dalam kompetitif liga pun, kami masih berpelung untuk merebut dua trofi iaitu Piala FA & UEFA Champions League.
Arsenal yang kononnya tengah hot form sekarang ini tetap kosong dari segi meraih apa-apa gelaran. Arsene Wnger berbangga dengan kedudukan ke-3 liga tapi tidak risau yang sudah berapa musim, almari pasukan mereka kosong. Kata Wenger " stay in top 3/top 4 is like winning a trophy". Agak kelakar betul ayat professor itu. Chelsea ni sudah lali dengan kedudukan ke-3 & 4 ni. Macam tahun lepaslah, walaupun hambar, tapi Chelsea tetap berjaya mengakhiri liga di top 2. Ada ke Pak Ancelotti nak keluarkan ayat seperti ini "stay in top 2 is like a winning trophy" ? Tidak, kelab kita takkan keluarkan ayat-ayat bangang seperti itu. Itu bukan standard pasukan kita. Standard sebenar pasukan Chelsea ialah layak ke slot UCL musim depan + menang trofi. Itulah motif utama Roman Abramovich take over Chelsea.
Sebut pasal kelulusan ke slot UCL musim depan, aku masih optimis Chelsea akan tuntaskan target itu. Untuk perebutan top 4 spot, kita akan bersaing ketat dengan Spurs. Walaupun fixture selepas ini sangat sukar bagi Chelsea, jika nak bandingkan dengan Spurs yang hanya akan lawan dengan pasukan underdog, namun aku masih yakin kita mampu melepasi sisa-sisa baki 8 perlawanan yang tinggal ini. Apa yang membezakan Chelsea dengan Spurs ialah pengalaman. Kita ada pengalaman yang lebih kuat dari mereka. Jadi sebab itu, aku yakin Chelsea akan meneruskan tradisi yang seperti dilakukan dalam musim-musim sebelum ini iaitu bermain di kejohanan trofi telinga besar.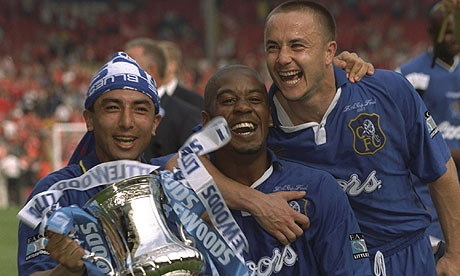 The legends - RDM, Eddie & Wise
Road to Wembley.
Wembley ini boleh dikatakan menjadi satu tempat kebiasaan bagi pasukan seperti Chelsea. Setiap tahun, setiap musim kecuali musim lepas, lokasi tersebut sentiasa dikunjungi oleh Lampard,Drogba, Terry & player kita yang lain. Community shield di Wembley ? semi final di Wembley ? final di Wembley ? Perkara biasa bagi The Blues.
Untuk separuh akhir Piala FA, kita akan berdepan dengan Spurs. Apa yang menarik tentang separuh akhir Piala FA tahun ini ialah ada kita akan disajikan dengan dua pertarungan derby terbaik iaitu Chelsea lawan Spurs & Liverpool lawan Everton.
Perlawanan akan berlangsung pada 15 April nanti.
KTBFFH.