gambar ini diambil dari website mirrorfootball dot co dot uk
Salam Jumaat.
Heboh seketika apabila Jose Mourinho datang ke Kota London, England dua hari lepas. Sudah pasti kita tertanya-tanya adakah kepulangan Jose itu akan menguatkan lagi spekulasi beliau untuk melatih Chelsea balik ?
Jawapannya ada pada aku sekarang ini.
Sebenarnya Jose Mourinho kembali ke England hanya mencari rumah baru untuk keluargnya sahaja dan bukan ada sebab yang lain. Beliau datang bersama dengan isteri dan kakak iparnya. Mereka telah singgah di satu restoran Itali yang bernama Alvaro Maccioni. Kata pemilik restoran tersebut, "Mourinho dan sekeluarga datang cari rumah baru sambil menikmati makanan yang ada di restoran saya."
Marietta, pemilik restoran itu juga seorang peminat Chelsea. Dia juga mengajukan beberapa soalan kepada Jose termasuk soalan seperti ini "Adakah benar anda akan melatih Chelsea balik ?". Tapi sayang, Mourinho mengatakan kepada Marietta yang beliau tidak akan kembali ke Chelsea. Marietta tertunduk kecewa dengan jawapan itu.
Bukan sahaja Marietta, aku juga sangat kecewa dengan respons tersebut. Ye lah, sebagai peminat yang respek dengan zaman pimpinan Jose di Chelsea dulu, tentunya aku mahu melihat beliau kembali melatih skuad kita balik. Lebih-lebih lagi melihatkan prestasi terumbang-ambing Chelsea sekarang ini dan tidak lupa konflik yang berlaku di antara pemain dengan pengurus itu sendiri.
Jose Mourinho ada misi penting di Sepanyol. Beliau bertugas di satu kelab bola sepak terkaya di Sepanyol. Real Madrid ketika ini memimpin liga dengan 10 mata. Jadi sebab itu aku rasa beliau tidak berminat untuk keluar dari Kota Madrid untuk tempoh sekarang ini. Mungkin kita terpaksa menunggu sehingga musim depan kot ? Kot-kot pada waktu itu, AVB tidak lagi menguruskan Chelsea dan Roman bersedia untuk memujuk Jose kembali,hehe.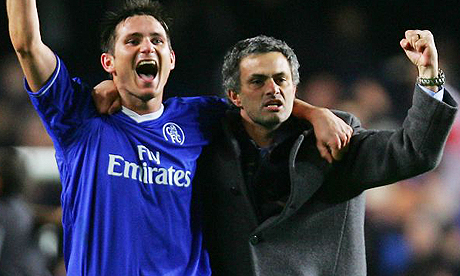 P/S
: Jujur dari sudut hati aku, Mourinho antara pengurus terbaik dalam sejarah kelab bola sepak Chelsea. Jika tidak kerana beliau, aku tidak akan menyokong Chelsea. He always be The Special One. Mourinho mendidik pemain Chelsea seperti anaknya sendiri, sebab itu pemain Chelsea respek dengan beliau. Aku pernah guna gambarnya untuk profile facebook Kampung Chelsea. Suka atau tidak suka, he is the best of the best. Full-stop. AVB ? no komen.