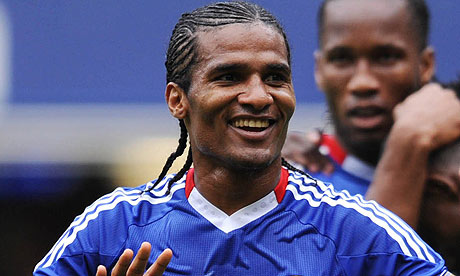 Perfomance Flo setakat ini sangat mantap.Musim lalu terbaik, n musim ini pasti lagi baik.
Bile die mule bercakap mengenai masa depannya di kem kite, aku mule terfikir-fikir sesuatu yang mana jika perfomance die kekal hebat untuk musim2 yang akan datang lagi, perlukah die akhiri kariernyer di kelab lain ?
Jika sesape yang masih belum tahu lagi, kontrak Flo bersama kem kite akan tamat pada akhir musim 2013.So ke mana hala tujunya selepas pada tahun tersebut ?
"It would be great to play for a club like Flamengo or Vasco da Gama.It is something that I want to do in my life.I am going to finish my European career in Chelsea but my ambition is to finish at the highest level possible and play in the next World Cup in 2014.I would like to play some football in Brazil - the true country of football.(Flo Malouda)"
Nampaknya Flo sangat berminat untuk mengakhiri kariernya di Brazil.Ape2pun buat mase sekarang, perfomance die sangat bagus bersama kem kite.Kalau nak bincang mengenai masa depannya tu buat mase sekarang, ia tidaklah sesuai sangat.Fokus kepada The Blues jelah Flo...Lambat lagi ko nak pencen kat Stamford Bridge.
P/S
: Tapi kenapa die tak nak akhiri kariernya di tempat kelahirannya sendiri ? Ramai player2 star yang mahu tamatkan kariernya di negara kelahiran diorang sendiri.Didipun sempat berkata bahawa dia mahu mengakhiri karier di kelab lamanya iaitu di Marseille.Flo ni mesti suka cara permainan samba ni, konfem.!