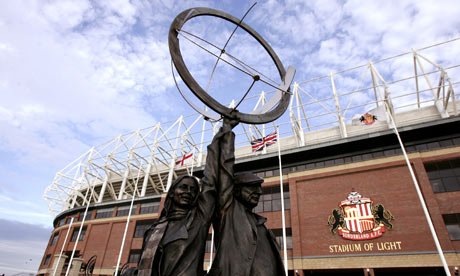 Lawan minggu ini :
Sunderland di Stadium of Light.
Transfer prospek :
Mereka membeli dua bekas player MU iaitu John O'Shea & Wes Brown. Pembelian yang bagus dan ia memberi gambaran jelas betapa team yang diberi julukan The Black Cat itu mahu mengukuhkan lagi kekuatan pasukan di bahagian defensif.
Player yang perlu diberi perhatian :
Asamoah Gyan, Kieran Richardson, Sessegnon
Perkembangan semasa mengenai kem Chelsea :
- Drogba dikeluarkan dari match kali ini berikutan kecederaan yang dialaminya ketika berlanggar dengan keeper Norwich. AVB mahu die direhatkan sepenuhnya dan dapat fit 100% sebelum game dengan MU. Cech yang sudah beransur pulih dari kecederaan akan membuat 1st starter, begitu juga dengan David Luiz. Pembelian baru, Raul Meireles dijangka akan diletakkan di bangku simpanan terlebih dahulu. Juan Mata rasenya akan bergandingan dengan Torres & Anelka/Lukaku/Sturridge di bahagian serangan.
Line-up (pilihan AVB) :
(4-3-3)
Cech
Bosingwa - Terry - Ivanovic/Alex - A.Cole
Lampard - Mikel - Ramires
Anelka/Lukaku - Torres - Mata/Malouda
Line-up (pilihan aku)
(4-3-3)
Cech
Bosingwa/Ivanovic - Terry - D.Luiz - A.Cole
Meireles - Oriol Romeu - Ramires/Mceachran
Lukaku/Sturridge - Torres - Mata
Pilihan anda pula ?
Still remember ? Musim lepas, kite menang 4-2 di sana.