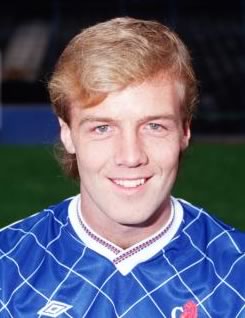 Kenal dengan
Kerry Dixon
?
Kerry Dixon
merupakan bekas player kite di era 1983-1992. Beliau telah menghasilkan sebanyak 147 gol dalam 335 penampilannya bersama The Blues.
Dixon sempat memberi respons mengenai transfer news Chelsea pada season baru ini.Guess what ? Beliau meluahkan rasa minatnya untuk melihat striker sensasi Liverpool,
Fernando Torres
untuk menyertai Chelsea..
Sebelum itu Dixon memberi sepatah dua kata mengenai nasib masa depan pemain veteran seperti Drogba :
"Didier's 32, and age isn't a factor if you're playing well," Dixon said. "But you can't expect him to score 30 goals every single season. He's had two golden seasons at Chelsea, but I'd love to see another world-class striker - and a young one - at the club.
Beliau menginginkan
Torres
berganding bahu dengan Abang Didi. Wow.! Jika ia berlaku, serius mereka berdua bakal jadi gandingan terbaik di dunia beb.Ye ar, bintang Sepanyol berkolaborasi dengan bintang Ivory Coast, memang Super Black & White Awesome !
Jelas
Dixon
mengenai perkara ini lagi,
"I would have thought they'd(chelsea) buy a striker. I hoped it would be Torres. I still haven't given up hope."
Beliau
memuji pembelian terbaru dari Chelsea iaitu Benayoun 5 juta & Ramires 22 juta pound :
"That's a good buy.!"
Dixon
juga memuji perancangan yang dibuat oleh CA mengenai penjanaan player2 muda Akademik Cobham.
"It's great. I wondered what direction the club would go in. It gives them the opportunity to cut that wage bill, but it does mean the youngsters have got to step up to the plate when they're given their opportunity."
P/S
: Power jugak
Kerry Dixon
nih. Tengoklah. sepanjang kariernya bersama Chelsea, beliau telah menghasilkan 147 gol dalam 335 penampilan.